November 10th, 2009, 10:22 am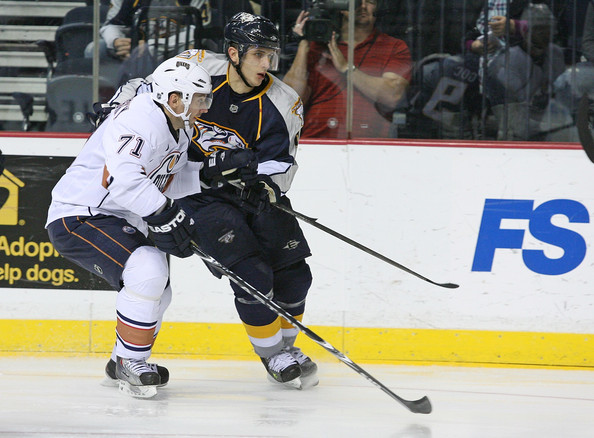 Marcel Goc makes his triumphant return to the Sharks Tank tonight after signing a one year deal with the Nashville Predators in the offseason. When you take a look at how much the Sharks bottom six forwards have improved, one has to tip their hat and give an assist to Predators GM Dave Poile for not resigning Scott Nichol and underutilizing Jed Ortmeyer, allowing them to fall into the clutches of our own Doug Wilson. Nichol and Ortmeyer have been two major keys to the transformation of the Sharks third and fourth line. Last season, the Sharks got limited offense and very little grit from their bottom six and this year these former Preds have brought a new attitude and work ethic to the mix. So, welcome back Marcel Goc. We may miss your blogging, but we do not miss your consistently disappointing play. I hope Poile is happy with your stat line and the $250,000 he saved by letting Nichol walk. Let's look at the difference with the three stats that really matter for a bottom six center like Goc and Nichol: Hits, Faceoff % and PK time.
Marcel Goc (2009-10) 8 hits, 55.5% and 1:23 PK time.
Scott Nichol (2009-10) 53 hits, 64.2% (2nd in the NHL behind Paul Gaustad) and 2:07 PK time
Not to mention that Scott Nichol is a whopping 62% on PK faceoff draws and Goc is under 50%. Doug Wilson has delivered change in a big way with a player that might not get the press, but Nichol for Goc was a remarkable and much needed upgrade.
The Predators will be without their star blueliner, Shea Weber, tonight while the Sharks are getting back Seto and Vesce. I could see this causing semi-chaos upfront initially with the Sharks falling behind early, and I could also see this as what they call in the betting world a "trap game" with the Sharks perhaps looking ahead to a date with Dallas on Thursday. It's for this reason that I hope McLellan starts Thomas Greiss tonight to keep the Sharks focused in their own end, forcing them not to check out against the weaker, hoe down dancing opponent. While the Preds are 2-9 against the Sharks in their last 11, I still smell trouble and a tight 3-2 win by the Sharks.
How do you like the new blog and sexy features? Just in case you were having trouble getting up for the game, a little dance down memory lane for you. Will McLellan play Staubitz tonight and scratch McGinn? We'll have to see…
[youtube]http://www.youtube.com/watch?v=yTpl_SuXygw[/youtube]