February 22nd, 2010, 10:15 am
Three great matchups, three great games.  Maybe the Sweden-Finland game was a shade under "great", but I'd still say the day lived up to its billing.  And of course the story of the Olympics so far is the U.S. upset of Canada 5-3; it was yet another game where the Canadians vastly outshot their opponent and didn't win in regulation.  They did the same against the Swiss, but Jonas Hiller had a great performance.  They must be frustrated that the same thing happened last night against Ryan Miller.  Gabe Desjardins had a great post that showed the out-and-out dominance the Canadians had over the Swiss, and here's a bit of a taste of that about last night's game.
What to say about last night?  It seems to be a triumph of will vs. skill.  Or maybe it was just superior goaltending giving the U.S. a chance to get some gritty goals and steal it.  Either way, it was incredibly exciting.  I'm still not sure if any of the American players would have made Team Canada if they were all magically transformed into Kraft-dinner eating, Celine Dion-loving Canucks, but somehow they won.  Even if you take out the "Miracle On Ice 2" or whatever they are calling it, it was an extremely pivotal game for the Americans in terms of their medal chances.  Given they won all three games in regulation and have the best goal differential, they have the easiest path through the tournament by far.  Here's the bracket: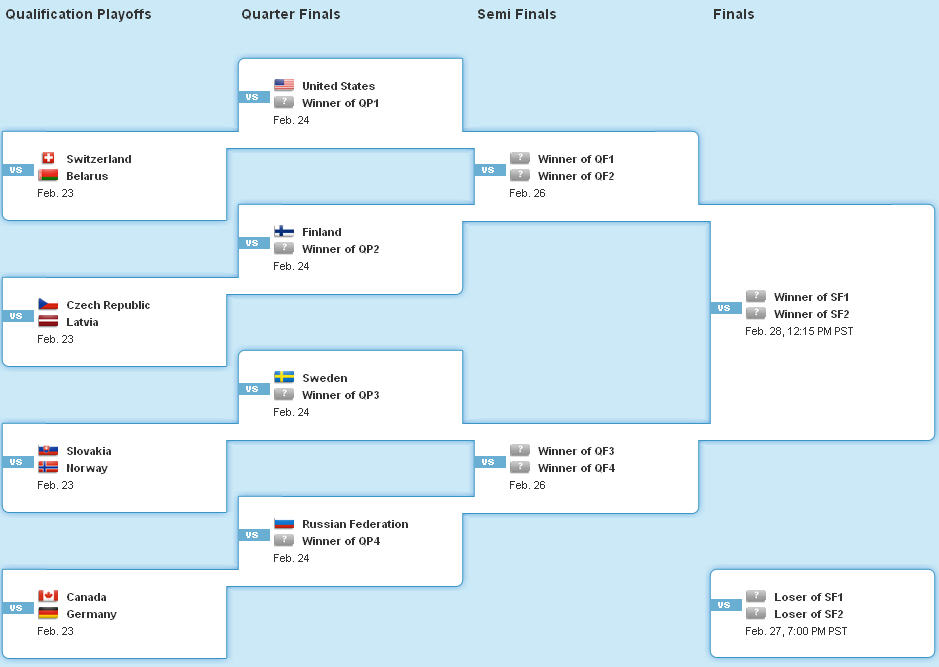 As we can see, Belarus will be our likely opponent in the quarters, with either the Finns or the Czechs a potential semifinal matchup.  The U.S. will avoid the Canadians, Russians, and Swedes until the goal medal game.  That's what I call a sweet bracket.  While I still can't say we are the favorites to win gold, now I'd say that I'd be disappointed if the U.S. didn't medal.  Actually, I'd say the silver is probably more likely than the bronze at this point.  I like our chances vs. the Czechs over any of the Big 3.
Despite the major media coverage, I wouldn't say this game had any real "national significance".  Unlikely 1980, there's no political ideology at stake, and no real underdog status here.  One team made up of NHLers beat another team of NHLers.  And while I'm happy the game was close and exciting, I don't hold much hope that casual watchers of the game last night will be converted into hockey fans.  We didn't get an NHL ratings bump after Torino, and we won't see it this year either.  Frankly, that's fine by me, because if hockey got popular, that might mean more NBC coverage.  If I hear Ed Olczyk say "active stick" or "puck in the back of the net" one more type, I'm going to start wishing for more Mike Milbury, which will rip open the very fabric of space and time.