November 23rd, 2009, 1:00 pm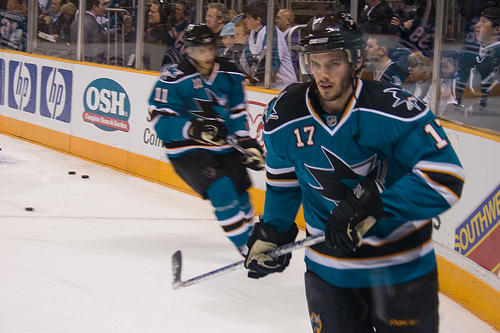 With the Worcester shuttle in full effect sending down a flu ridden Logan Couture and his cohorts Ben Ferriero and Ryan Vesce, this leaves one hole in the Sharks roster for Wednesday nights game vs. the Central Division leading Chicago Blackhawks.
Is it Torrey Mitchell time? In case you've forgotten what he looks like, I included a picture of the dude to the right. Meet Torrey Mitchell all over again, folks. Remember the speed and fearlessness we saw in four playoff games vs. the Ducks? The joy of a scrappy role player we saw in 2007-08 with his 20 points and 50 PIM's.  If he's healthy, the Sharks just got even better. As impressive as McGinn, Couture and Ferriero have been in guest appearances, they were just holding the place warm for Torrey.
So where should he play? Well, for starters he'll likely be paired with McGinn and McLaren on the 4th line until he gets his NHL legs back but eventually, a 3rd line of Malhotra/Mitchell/Ortemeyer is something to look forward to. Mitchell is another top notch bottom six forward, another possible scoring threat with his speed and another PK guy (he was 2nd amongst Sharks forwards in 2007-08 in PK avg. time). Welcome back Torrey. Here's to good healthy and another reason why this team is better than last season's record setting club.
The rumor mill is a buzz that all is not right in Calgary with a certain star player. We've heard rumblings of Dion Phaneuf being moved in the offseason and with the addition of Bouwmeester and Regehr, should we be too surprised that Darryl Sutter is going to pick his brother over the player? I think not, these turtles stick together. Not that Sutter would ever deal Phaneuf in the conference, but what kind of blog would this be if I didn't make a plea of how we might be able to get him, if he is truly available. I would suspect the price would be a young top four d-man, a top six forward and a young NHL ready player. So would you trade Vlasic, Clowe and McGinn to have a potential pairing of Boyle and Phaneuf? This would mean that Joslin would be part of the defensive core for the rest of the season, but I think Joslin has proved he can handle it.
Acknowledging the odds are those good friends, Slim and None, I'm just saying hypothetically, would you do it? Doug Wilson has never been afraid to trade for a marquee player (Boyle, Heatley, Thornton, Campbell). He will pull the trigger. He has stones of steal, but is this the right deal? Not enough? Don't mess with a good thing or make a good thing better. You be the judge.