January 31st, 2013, 1:21 pm
The Sharks are off to the best start in franchise history, but not without some close escapes against the Ducks and Coyotes.  Mike and Doug talk about all the games, the Landeskog hit by Stuart, the Sharks ownership change, and Gomez's start as a Shark.
In other news, here's a computer wallpaper for the rest of the season.  Thanks Doug's daughter (with help from Bryce)!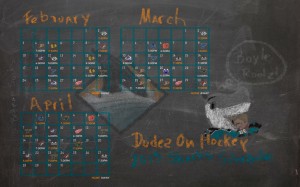 Podcast: Play in new window | Download